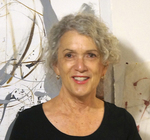 A R T I S T S T A T E M E N T
I am a naturalist by temperament. Working in collage has been a constant in my life. Layering photography, paint, ink, paper and fabric onto watercolor paper, fabric and wood is an intuitive process.
What I hope to create is an abstract landscape that captures nature's essence. Living and working in South Florida and West Virginia gives me the opportunity and experience to react to each. Both climates influence my eye. My current work is a record of that.
I invite you to interpret and respond to this work in any manner you feel.
photography, Pat Barnes